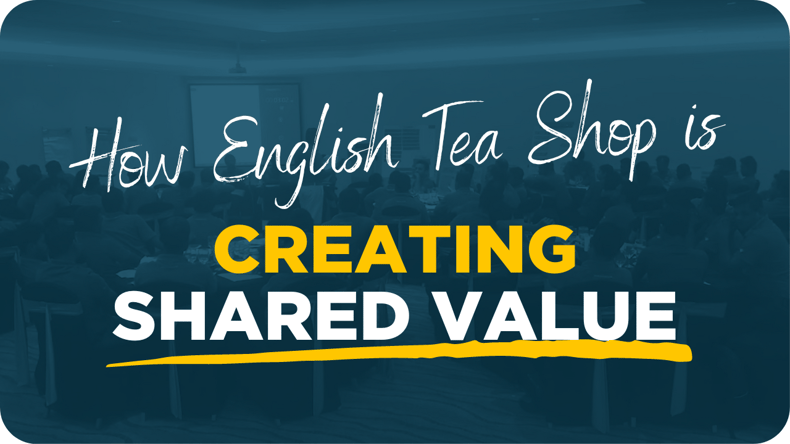 Creating a sustainable business is no easy task. Creating a sustainable business that also enriches the lives of all the people involved in that business is an even more challenging task. This is exactly what English Tea Shop sought out to do in 2014. CEO, Suranga Herath, wanted to create shared value for his people and community and he needed a business model to do so.
What Does Creating Shared Value Mean?
So, what do we mean when we're talking about creating shared value? Creating Shared Value or the (CSV) model is a business framework taught by Harvard.
According to Harvard Business School:

Creating shared value is a framework for creating economic value while simultaneously addressing societal needs and challenges.

When businesses act as businesses—not as charitable donors—they can improve profitability while also improving environmental performance, public health and nutrition, affordable housing and financial security, and other key measures of societal wellbeing.

Only business can create economic prosperity by meeting needs and making a profit, creating infinitely scalable and self-sustaining solutions.

 
This was the exact economic prosperity English Tea Shop hoped to create through their own organization.

Learn the 3 ways to create shared value
Overview of English Tea Shop
To give an overview of the company, English Tea Shop is located in Sri Lanka, an island nation long revered for its tea, especially in the United Kingdom. In 2010, Suranga Herath and his team capitalized on that history when they rebranded the business (which was founded in 2001), calling it English Tea Shop.
Watch this video to learn more about English Tea Shop
Moving To Sustainable Business Practices
Building on lessons learned from earlier in the company's history, when it catered to low cost and mass production, English Tea Shop evolved into a premium organic brand. They did that by moving away from the traditional auction model used to buy tea for centuries. To help promote sustainable agriculture practices, the company now buys its tea directly from organic farmers.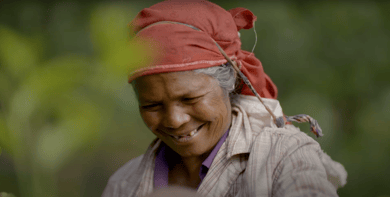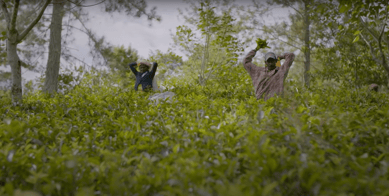 Finding A Business System To Create Shared Value
But the company wanted to do more. Herath wanted a business model that allowed his employees, farmers, and customers to all thrive together. In 2014, Herath flew to the U.S. to attend an executive leadership program at Harvard Business School. One of Herath's professors, Boris Groysberg, had listed Jack Stack's The Great Game of Business on a reading list. After reading the book, Herath immediately put together a presentation for his leadership team explaining how The Great Game of Business® (GGOB) was the operating system for their business they were looking for. Despite some concerns about opening their books to the entire team, they made the commitment to start playing The Game, and teaching their team to become businesspeople, in 2015.

Read The Great Game of Business
How English Tea Shop Is Creating Shared Value Through An ESOP and Education
Looking back at the time since they began playing GGOB, Herath says his team has achieved tremendous cultural improvement. "We call our GGOB application the 'Big Game' as we love to believe that we had married a societal and environmental focus to the GGOB framework through Creating Shared Value," he says, noting that the founding purpose of the business was to help support local tea farmers. "But the underlying truth is that GGOB plays a magical role in turning everyone to think and act like businesspeople." The company is now earning high levels of profits, improved cashflow, and greater productivity levels—which is benefitting the employees of English Tea, whose Employee Stock Ownership Plan (ESOP) now owns a 30% stake in the business.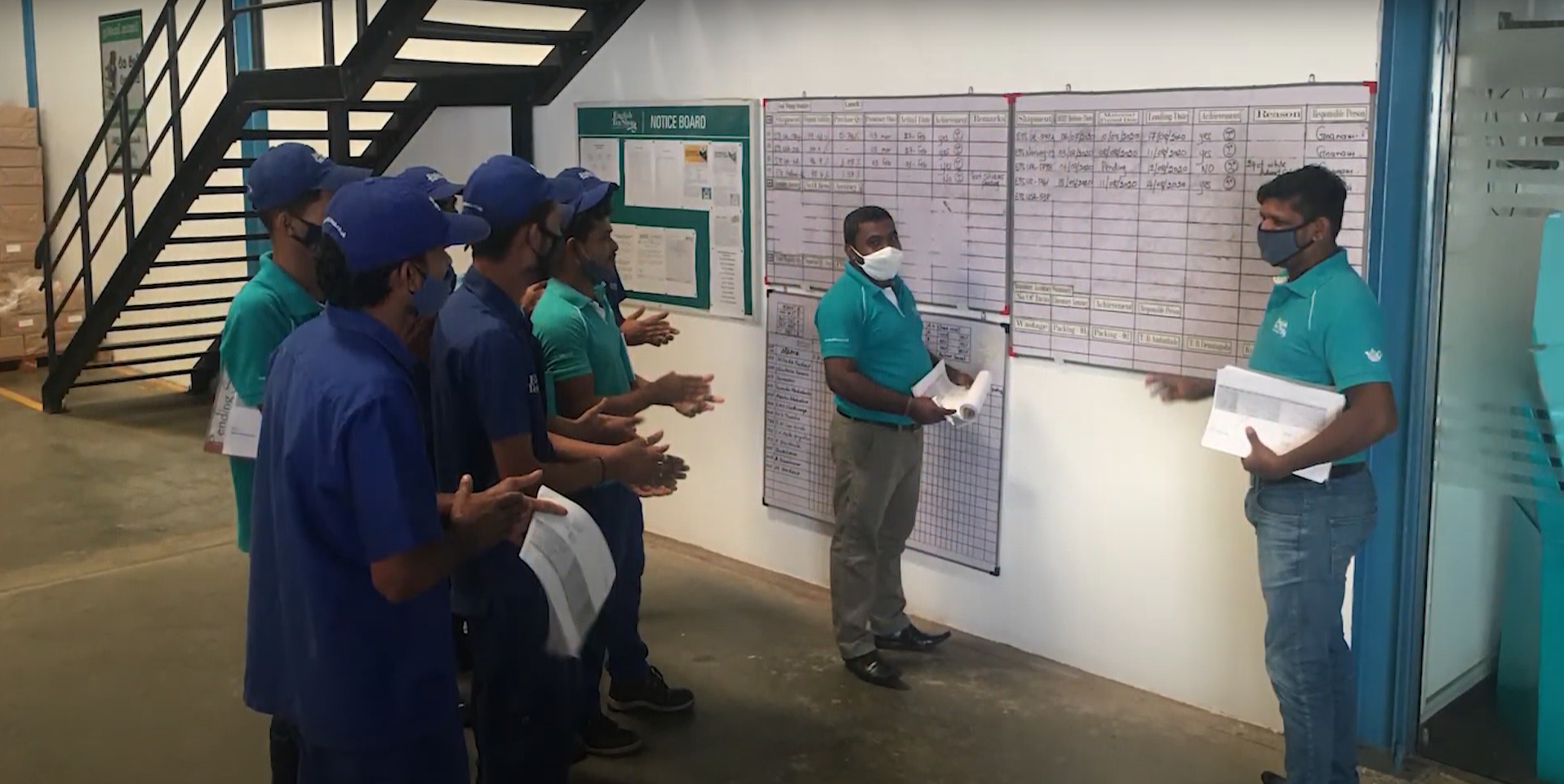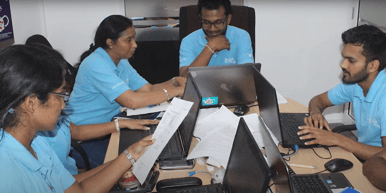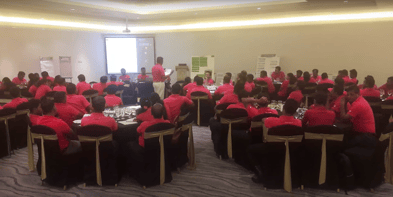 What's Next For English Tea Shop
Herath and his team are taking their 'Big Game' to the next level by incorporating more social and environmental sustainability metrics and KPIs into how they track and measure their progress in helping the farmers and suppliers they work with. "We are all facing a social dilemma here in the global south," says Herath. "It's time to fix things. We want to be part of building a virtuous cycle and we can use The Game to help us get there." 
Testimonials From Employees
"The line of sight that GGOB creates for all of us is so powerful. We use our knowledge of the numbers and the business to make decisions and change. The huddle, scoreboards, and forecasts help make us aware of every part of the business and understand how everything fits together. I'm proud to see how our ownership culture has evolved since we began playing the Big Game and how it's continuing to benefit our employees and our farmers. Whenever I tell friends and family about our culture, they want to come work with us."

~ Niluza Badurdeen, Director of Finance 

 
"GGOB is a great tool to get everyone in the business to engage and collaborate with each other. I was lucky enough to join the team after graduating and it's been a unique experience. It's very unusual to see a company run this way in our country. It's so interesting for me to learn and talk through financial statements and forecasts. We see the future today, identify the variances, and then we act accordingly. That kind of planning has helped us get through these crises."

~ Shashika Udayanga, Manager – Sales and Marketing 

 

"GGOB pushed me out of the comfort zone of my desk and into a level of ownership across the entire company. I'm much more engaged with the entire staff on a daily basis. I also have more confidence in myself than before. English Tea Shop has given me the opportunity to grow and develop skills I didn't know I had."

~ Nalin Senanayake, Administrative Executive  

 

---